The Story of 'Forever Blue Sun'
"Loss and the Search for Meaning, Purpose, and Happiness"
'Loss and the search for meaning, purpose, and happiness' appears to be a main focus of my years. The loss of my father to start when I was 6, and the emotional fallout as life continues, is cumulative; as if the loss of ones parents or even a marriage prepares you for this basic part of the human experience. Nothing, however, prepares you for the loss of a child! My heart goes out to my sister Susan…Though I have experienced my share of loss and grief, it has helped me focus on the lessons it brings. How appreciative I have become in searching my innermost feelings about life and even how much beauty there is in remembering and paying tribute to the beautiful people I have known. My niece Audrey Strumeier was one special beauty. Through and through. FOREVER BLUE SUN will share my many emotions and give tribute to the beauty that Audrey possessed. It will also hopefully bring you along as I share some of life's' most difficult experiences.
9/11 helped me to focus musically, as well as on the many we lost. How that event changed me and the world forever! Yet, by working through the loss, I also learned how beauty and loss are close and necessary partners in ones search for meaning in life. It is as though they are both required in order to really know and understand happiness. The most fleeting of all emotions. Through the emotions of my music, I have found purpose again. Through that expression and outlet I continue to uncover glimpses of happiness. This most highest and most prized of human emotions is not a destination however, but a journey.
Please join me in raising awareness of skin cancer, how to prevent it, and how to treat it. Help as you can to fund the great work that has been done and continues with your support. You can do that directly by clicking on the website Giving Page link below for the…..
AUDREY STRUMEIER MEMORIAL FUND for MELANOMA RESEARCH at
If you prefer, you can click on the MUSIC Section of this website and click on one of the icons to purchase FOREVER BLUE SUN CD or a download from CDBaby,  iTunes, FB, Amazon.com, etc. The proceeds from the sale of the CD's will go directly to Melanoma Research.
Much love to you all!  Thank you….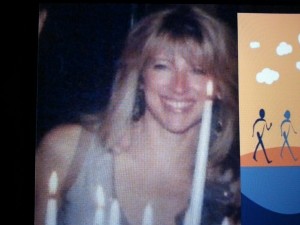 ---
About Allen Marks
Allen Marks (aka Allen Mark Strahl) is not unfamiliar with personal traumatic events. It was the loss of his father when he was 6 years old that lead him to ask his mother to buy him an accordion for his birthday. Allen began to play almost immediately by ear playing show tunes he had heard and national anthems as well. The sudden loss of his mother and then followed by the events of 9/11, Allen began to write his own music and lyrics now at a more feverish pace. His first CD, "Never Too Late", gained recognition and now provided the outlet needed for continual expression of his passion for haunting melodies. The passing of his young and beautiful niece in 2009 led him to focus more time and effort on using music, the universal language of our world, to help him and perhaps others work through difficult events in life.
"This CD Project has aided me to move through the grieving and loss process." Inspired by her courage, strength, and life's work despite her health issues, inspires him continually. "Perhaps this CD Project will be a blessing to others as they go through difficult times in their lives."
---
You can visit out the old site by clicking here: www.allenmarks.com/archivewebsite