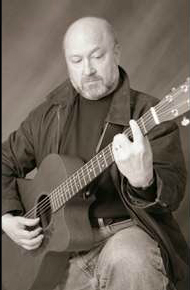 Allen Marks (aka Allen Mark Strahl) clearly enjoyed using his exceptional ear for the music he heard and learned to reproduce songs the exact same way. Having begun formal music training at age six, Allen was hardly interested in learning how to read music. Four years of lessons on the accordion produced very little musical theory knowledge or expertise. But when Allen played the songs he knew, one elementary school teacher remarked… "He plays from the heart". Allen played for school functions and the like for years.
Upon attending college, and before graduate school, the mellow and folksy attraction of acoustic guitar caught his interest. With listening influences from British rock bands to Broadway melodies, coupled with the unique personalities such as David Bowie, Cat Stevens, and many others, Allen began to incorporate rock as well as a splash of Jazz and R&B into his musical tastes. After spending a few years training for a science and healthcare career, Allen played a few weddings, interfaith functions, and eventually lost interest in playing out. Instead, and for years to come, Allen created songs on keyboard and guitar, all without lyrics. In fact, very few of his creations were really finished or even ready for lyrics at all. Allen's listening focus for years was New Age music and even some Classical.
Allen spent essentially the next two decades musically static. After having had a successful healthcare management career working for hospitals, doctor's practices, and allied health companies, and earning an MBA in the process, Allen was not finding complete fulfillment in his chosen profession. It was not until the horrific events of September 11, 2001 that changed his life and very core. From that traumatic event forward, songs written as long as three decades earlier, began to be resurrected! Finally, the songs, along with poignant and thought-provoking lyrics, began to take on a new life. Mingling his faith and life experiences, Allen has created some of the most endearing songs. Allen Marks, albeit later in life than anyone would have expected, has emerged as a gifted singer/songwriter who gives you the impression he has been at this all his life.
With now a couple years of vocal training at the famous Settlement Music School of Philadelphia, PA, and the expertise and training of over two years at MorningStar Studios, in Springhouse, PA, under the musical guidance of Grammy Award winning engineer / producer Glenn Barratt, and his wife singer/songwriter Lizanne Knott, Allen continues to evolve with inspiration to us all. And perhaps that is exactly what God has intended for this emotional, melodic, and thoughtful singer/songwriter. As if words alone could truly express his feelings, his harmony infused and often haunting melodies complete and envelope the package.
We invite you to see if his unique brand of music evokes a response or inner desires in you. But, leave yourself enough time to listen to the entire twelve song debut CD titled 'Never Too Late'. You just might learn more about yourself than you would have ever expected.
You can visit the old site by clicking here: www.allenmarks.com/archivewebsite